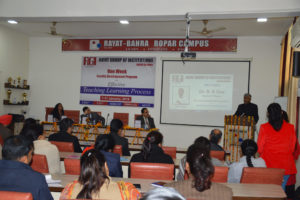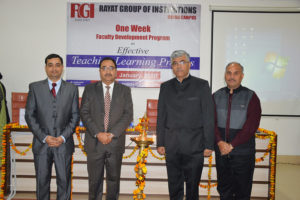 One Week Faculty Development programme inaugurated at Rayat Group of Institutions
One week Faculty Development programme on Effective Teaching-Learning Process was today inaugurated at Rayat Group of Institutions. An initiative of Rayat Institute of Engineering and Information Technology, this programme was planned with motive to polish the teaching learning methods amongst the faculty.
Dr. S. K Das, Director, Indian Institute of Technology, Ropar was the Chief Guest at the inaugural ceremony. In his address, he expressed that Teachers are the role models for the nation and this profession is the most satisfied one as one gets ample opportunities to give back to the society. "Try new methods, dare to take challenges, keep your targets high, achieve them and money power and fame will follow you" stated Dr. Das.  Stressing upon the need of polishing the skills, Dr SK Das affirmed that a teacher not only teaches the curriculum but will also teach the future generation ethics of life.
Dr. Suresh Seth, Campus Director, Rayat Group of Institutions in his welcome address said that modern society demands high quality teaching and learning from teachers. "Teachers have to possess a great deal of knowledge and skills with regard to both teaching and assessment practices in order to meet those demands and standards of quality education and this FDP is one step ahead to accomplish that task" stressed Dr. Seth. Elaborating on the vision of management of RGI, Dr Seth asserted that our group is keen enough to invest on developing the skills of faculty and staff as it is the only way to make them stand in the competitive world because they will impart what they learn and gain from such platforms.
Dr. Harish Kundra Director Engineering college in his vote of thanks exclaimed that Teacher's  learning is a continuous process that promote teachers' teaching skills, master new knowledge, develop new proficiency, which in turn, help improve students' learning. He further said that only consistent and dedicated efforts can improve a teacher's academic standards.
Er. Anudeep Goraya, co-coordinator of the Faculty Development Programme appreciated the efforts of management in providing the opportunity to organize such events. These platforms not only enrich the minds of faculty but also give them new horizons to work in and it should be regularly done.