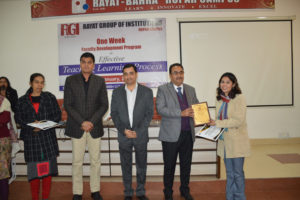 One week FDP concludes at Rayat Group of Institutions
One week Faculty Development Programme for teachers on "Effective Teaching-Learning Process" organized by Rayat Group of Institutions, Ropar Campus concluded here today. The programme was inaugurated by Dr. S. K Das, Director IIT Ropar .It was also convened by eminent Trainer, Counselor & motivational speakers Mr. Dilbagh Singh, Director Brainpower Services & Ms. Manjula Thakur, founder of The Transformers Value Creators who took sessions of faculty stimulating their minds and stressing on the dire need of mentoring the students as teaching human values to students in among the prime duties of teachers.
Dr. Suresh Seth, Campus Director, Rayat Group of Institutions in his valedictory address stressed on the applicability and utility of experiential learning gained from this one week FDP and implementing the same in their routine is the need of the hour. He said that if a teacher effectively manages the teaching process it will definitely enhance the learning capabilities of the students.
Dr. Harish Kundra, Director RIEIT in his vote of thanks during the valedictory ceremony said that the programme had an overwhelming response from the faculty. It was unique as it not only included various lectures about teaching methodology but also had mind awakening activities which gave goose-bumps to the faculty. Recreational activities were also included with a motive to refresh the minds of faculty so that they can restore their energy in positive way.
Sessions were also taken by Dr. Pallavi Pandit, Dr. Ashutosh Sharma & Mr. Navdeep Sanwal.
Er. Sukhdeep Singh, AP ME Department in his participant feedback appreciated the efforts of Management in organizing this Faculty Development Programme and said such mind invigorating programme enhances our capabilities of handling difficult situations not only in class but also in our routine life's.