Quick Glance
| Approval | Affiliation | Course Duration | Eligibility |
| --- | --- | --- | --- |
| AICTE | IKGPTU, Jalandhar | 3 years(6 Semester) | 10th passed with 40% aggreagate marks. |
About RIEIT
All the Engineering colleges in Punjab, the Rayat Institute of Engineering and Information Technology(RIEIT) stands apart. Owing to its state-of-the-art facilities, the college has become one of the most sought after B.Tech Colleges in Punjab. The college that was established almost 18 years back with just three B.Tech Programmes, now boasts several other B.Tech branches as also advanced M.Tech Programs. It is the best choice for students looking for M.Tech Colleges near Ropar (Punjab).Our constant endeavor is to equip our students with the knowledge of all the latest advancements in science, technology and engineering and for this, we keep introducing new courses from time to time.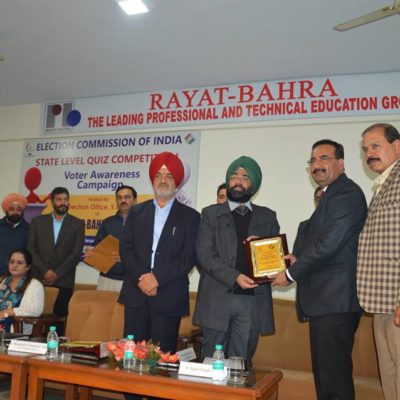 The sprawling Campus, fantastic infrastructure and the dedicated faculty ensure that our students are groomed in the best possible ways. Apart from academics, the college organizes various fests, competitions and other extracurricular activities in routine.Students take part in these confidence-building pursuits with great gusto and become all-rounders.That is the reason our students exhibit an excellent placement record.
We feel honoured to share that Rayat students have been getting coveted recruitment offers and great salary packages. Students' testimonials at the site are ample proof of this phenomenon. Students deserve quality education. So, if you are on the lookout for Engineering Colleges in Ropar, the Rayat Institute of Engineering and Information Technology(RIEIT) is the best place for you. It is one stop-shop when it comes to B. Tech Colleges in Punjab. Those who are hunting for M Tech Colleges near Ropar ( Punjab) must also pay a visit to the College to see the magnificent college for themselves.
The college strives for excellence in Engineering and Technology.