About the Department
Rayat College of Law is housed in an independent building at Rayat Technological Campus, Railmajra, Near Ropar, which is spread over 300 acres in the scenic background of Shivalik Hills. Institute has independent self sufficient Campus area and infrastructure and supported facilities common for the campus including hostels, canteen and mess, medical care centre and sports playgrounds. The institute is equipped with excellent infrastructure including Moot Court, State-of-the-art Library and Computer Lab with 24hrs. Internet facility (10 mbps lease line),wi-fi Campus.
Dr. Monika Sharma
Officiating Principal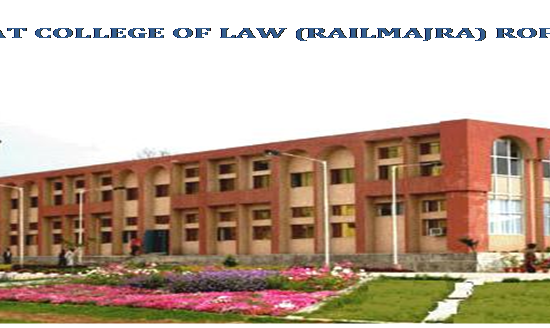 Vision
To provide value based and affordable education to those, who are desirous of outstanding achievements in learning, discovery and citizenship in a creative community and building one of the world's great educational set up for the good of all.
Mission
Within a vibrant, ever-challenging and supportive learning environment, we as a part of Rayat Group of Institutions, groom our students for professional roles as advocates, judges, entrepreneurs and teachers. We strive to imbibe them with the highest principles of professional, ethical and moral responsibility. The emphasis is on imbuing critical thinking and honing communication skill in addition to basic knowledge of law and an understanding of the functioning of the legal system. With strong support from the Management, Rayat College of Law is poised to create a niche for itself at the national level.
Objective
To instill an ability in our students to develop core competencies which are essential to embark on the practice of law. These core competencies particularly include legal analysis i.e. knowledge of law, ability to apply law to varying factual settings and ability to engage in legal argumentation; legal research and writing i.e. ability to conduct independent legal research and produce legal writings of highest professional standard.
Details of Seats with Specialization
Admission to B.A. & B.Com. LL.B. (Hons.) 5 year Integrated Course  LL.B. 3 year course  is done   through online Counseling by the         Punjab Government.
Number of Seats
B.A. LL.B. (Hons.)                                          120 Seats
B.Com. LLB.(Hons.)                                        60 Seats
LL.B 3 Year Course                                         60 Seats (Proposed)
Key Highlights of the Department
8th RCL National Moot Court Competition:
Hon'ble Justice Sh. Avneesh Jhingan, sitting judge of The Punjab and Haryana High Court inaugurated the 8th RCL National Moot Court Competition at Our College on 30th March, 2017. It was two day competition where 32 teams including National law schools across the nation competed against each other. Army Institute of Law, Mohali was declared winner of the competition.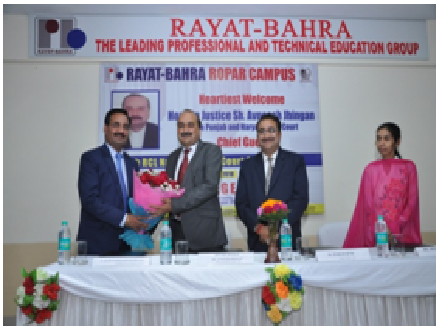 Sports Felicitation Ceremony:
A sports facilitation programme was conducted in Our College for the students who bagged First, Second and Third Positions at Rajiv Gandhi University of Law, Patiala, University Institute of Legal Studies, Panjab University Chandigarh, and Intra College tournament at Ropar Campus in different Sports event. The Badminton team of Women won the Gold Medal in Panjab University Inter College Tournament, where as the Chess team managed to have the 7th position in this tournament among 190 Colleges for the session 2018-19. An Intra-College Cricket tournament was organised in our College from 13-03-2018 to 14-03-2018 in which five teams from each year had participated. Team from 3rd year won the tournament.